Feel Fab UK is a National Campaign created by Jemma Cooper, winner of Professional Beauty's Salon of the Year South West who has teamed up with Beauty Industry Professionals and Campaign Specialists Empact Ventures. 
The Problem
 
                                                             The Solution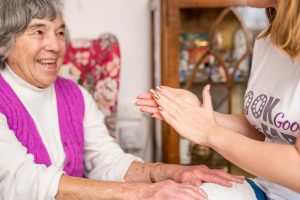 To contribute to address these problems, the "Feel Fab UK" campaign offers free beauty treatments to those most in need and their families to help them look good on the outside and feel fabulous on the inside. We are teaming up hundreds of salons and therapists to care service providers.
Our Campaign Journey started January 2017 which saw therapists offer in house services, events and vouchers to the elderly. Throughout the year we now offer a 3 week programme where salons and therapists give a little of their time for free giving people in need a little pamper, whether that's a hand massage, a mini-makeover, a pedicure or any treatment that helps that person to feel fab.  Therapists for years have been known to be more like counsellors consulting and supporting individuals everyday so as to be able to help those people that need support will be such a reward to many. There is no greater reward than giving your time.
How You Can Help?
The level of involvement in the campaign from you or your salon is completely up to you and we've given you four options to choose from!
Give Beauty Treatments in the Community: Salons and therapists visit patients and centres for in-house or community pampering.
throughout January ONLY
Or…
Become a Partner: Media Partner, Marketing Partner, College or Univeristy Partner,Care Service Partner. Supporting us to advertise to both care service providers that need help and beauty therapists contacts that want to be involved. Get involved and support this amazing cause.
Care Service Provider: Do you have lots of clients/patients in need of a little pampering? Sign up as a Care Service Provider and receive this great service at your residence.
Become a Sponsor: We are looking for funding to invest into this project in order to help more people in need, interested to find out more, then contact us.