Bringing all that we do to support people throughout the year into a feel fab Month! There are different options available to bring more beauty salons and companies on board. January can be a slow starting month especially for those in need so lets help them have a fab start their year. If you are a busy therapists or salon and don't have time to support the campaign during the year then January is the perfect time to get involved. Its great to do a good deed at the start of the year helping you to have a fulfilled and proposes year. Our 3 week programme will still continue in January but the other ways you can get involved,
The ways you can get involved :
Vouchers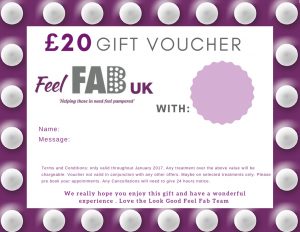 Throughout December our salon partners will give out vouchers to care service providers who will then hand them out to those in need and their families to come and visit the salon throughout the month of January! We Recommend a minimum of £100 in £20 vouchers to be given. Its a great gift to provide someone in need at Christmas!
Give an inspirational talk

We will be scheduling inspirational talks all over the country, throughout January, to coincide with the Feel Fab campaign in beauty schools, colleges and universities. We want to inspire individuals not only in their career but also to help clients feel fabulous both inside and out.
As we all know, the way you feel on the inside reflects on the outside!
If you want to share your experience in the beauty industry and inspire the next generation of beauty students click here to get involved in our Feel Fab January campaign.
Host an Event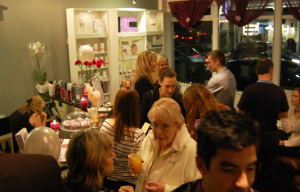 Don't have much time during January but still want to get involved? Why not host an event?
Get a January date in your diary for a day/evening of fun, pampering, looking good and feeling fab!
Invite some people in need from an organisation of your choice in your area to an exclusive event where they can enjoy a little FREE pampering, a tour of your beautiful salon and the chance to socialise away from their home.
Events are always popular and with carers and family friends joining those in need you may also gain some new clients along the way! Take a few pictures and we'll showcase them across social media to show your salon as its best and fullest!
Download some FREE invites here to hand out to your chosen organisation and let us know when your event is planned for!
Give back and have fun!